Alkota Dealer and Customer Have Winning Partnership

Five years ago, Shannon Heflin was looking for a side gig. After years of heavy competition in lawn care, Shannon decided to take the plunge into an alternative area he found appealing: pressure washing services.

After a lot of research and consideration, Shannon decided to invest in an Alkota Cleaning Systems pressure washer model 5355JB.

When Pat Seay of K.S. Supply sold Shannon his Alkota unit, Shannon had great expectations. But despite all his research, there is a certain amount of uncertainty with any big purchase. What Shannon didn't know is exactly what a great investment he was about to make. But Pat knew -- after all, he has seen many satisfied customers over the years.

Pat started K.S. Supply as a Whitco dealer in 1985 and continued as an Alkota distributor when Alkota Cleaning Systems acquired Whitco. Pat has always been impressed with Alkota's commitment to its products. "It is easy to get ahold of a live person; communication is easy with people who work there," says Pat.

Pat has also been pleasantly surprised when it comes to product improvements. "Suggestions are never taken lightly," says Pat. "Alkota gets on top of it." This receptive attitude helps Alkota stay on top of new innovations so customers are always buying a top-of-the-line product with features they want most.

Pat might be most proud of the level of service he and his customers get from Alkota. "My favorite part of working with Alkota is service after the sale," says Pat. "I've enjoyed a great 38+ year career in pressure washing. Alkota and customers like Shannon have made it possible."

When asked why he originally selected an Alkota machine, Shannon said, "They're made in America, first off. Second, positive reviews, and third, as an added bonus, Pat's shop is convenient for service."

Shannon's company, Tennessee Pro Wash Solutions, has been able to work on just about anything that needs pressure washing. "From concrete and brick to houses and commercial jobs, we've done it," says Shannon.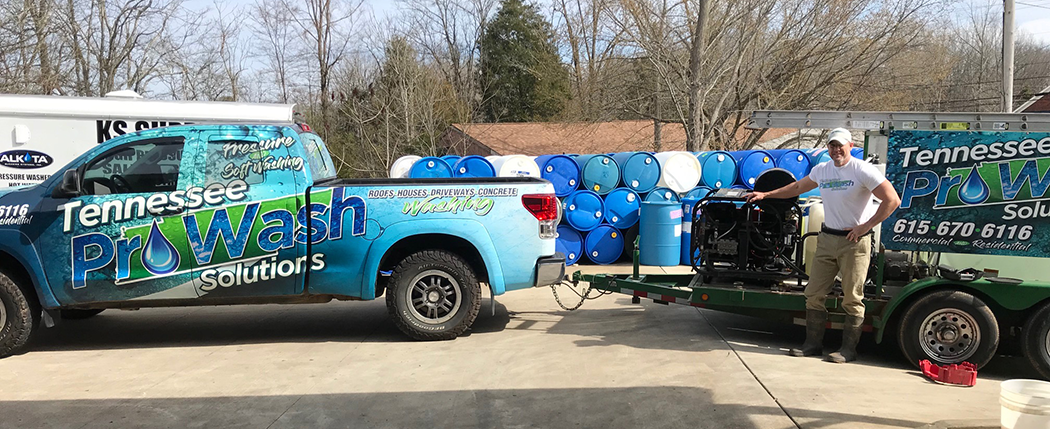 Ironically, Shannon's Alkota pressure washer has never been back to Pat's shop. "In the last five years, using the machine nine or ten months out of the year, almost every day, I have had zero issues. It's been an amazing, trouble-free product," says Shannon. But if he ever did have any issues, Alkota stands by its products -- you'll never get stuck with a dud or problem machine.

K.S. Supply serves the Nashville, Tennessee area and sees customers using Alkota power washers in a variety of industries and areas, including contract cleaning, house and roof washing, kitchen hood cleaning, and fleet owners. "We sell a lot of 216X4, 425X4 and 5355JB machines - we always have them in stock," Pat says. "All are welcome!"
---