DIFFERENCES: Hot Water AND Steam PRESSURE WASHERS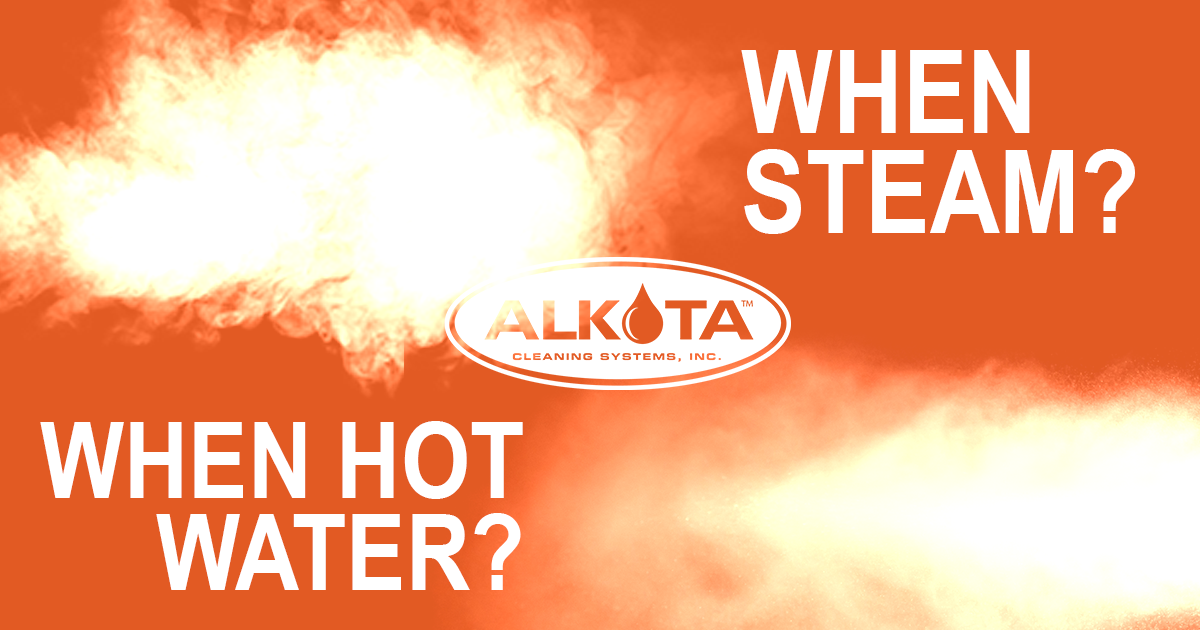 We are back again with more conversation about hot water and steam. We have another article about these benefits between the two and you can read it here.
All Alkota machines are made in the good ol' USA. We have amazing distributors willing to help you find the best machine for you and offer great customer service. If you are looking for an Alkota machine, check out our Distributor Page for a local one near you.
Hot Water
Have really dirty jobs that require a good heavy clean? We're talking lots of dirt build up, greasy grimy messes. Look no further than Hot Water Pressure Washer units to get the job done.
Jobs that require heavy pressure, use hot water pressure washer units that can reach around 210 degrees. These machines allow the user to control the heat of the water. Machines reach pressure of 1000 PSI or more, to help clean away grime. That is some serious knock-down power!
These units are great for multi-purpose jobs such as:
Ag/Hog industry (cleaning inside bars and farming rigs)
Cleaning Industrial Equipment
Municipality
City street clean up
Personal Home use (Concrete, driveways, and more)
WHere to Start?
Electric, gas or diesel? Mobile, installed or trailer mounted? We have options! begin your search for a Hot Water Pressure washer here. Still have questions? Make sure you contact your local dealer for even more help and custom build options.
Steam
Have a job that requires high heat but low pressure? Like delicate jobs such as the food industry or mechanical parts like cleaning an engine? Alkota has great professional steam cleaner machines that can get the job done.
Build with delicacy in the forefront; machines are designed with temperatures varying from 225-300 degrees. Using steam emulsifies the grime, melting it away, and reducing the splatter. While being easy on parts such as electronics and paint, because of the low pressure being used.
Here are some popular uses for our industrial steam
cleaners:
Car shops: car engines,

hydraulics, transmissions

Sterilization of soil for planting

Creating humidity in greenhouses

Curing tobacco

Cleaning vents in industrial kitchens

We also talked about the importance of a steam cleaner machine in our

trench-less pipe repair

article.



WHere to Start?
Alkota has many different configurations and power options for our steam cleaners. From mobile to installed, gas, electric and more! We can even build you a custom machines for your particular needs.
Check out all our Steam Cleaner options here, but don't hesitate to find a dealer if you have more questions!
Picking the Right Pressure Washer Solution
If you are in the hunt for either a industrial hot water pressure washer or a professional steam cleaner, we hope these tips will help you decide between the best machine for you. And if your still not sure? Please reach out to any of our helpful distributors. They will be happy to learn about your needs and get you the right machine.