Cold Water Belt Drive Industrial Pressure Washer Line
We recently introduced our new line of belt-drive industrial cold water pressure washers. These versatile units are compact, simple, and easy to maintain and come in multiple configurations, a portable 4-wheel cart, floor mount, wall mount or customer-provided base option. On top of that, these units can match your needs for GPM and PSI.
Endless Applications for Our BD Industrial Series
Manufacturing
This industrial-grade cold water pressure washer is right at home in manufacturing facilities; the ability to cart the washer to any areas or equipment you need cleaned is quick and painless. Just add water and power, and you're up and running.
Food Processing and Restaurants
Utilizing this belt drive pressure washer in a food base atmosphere adds a new efficiency level to the cleaning regimen. Whether you are cleaning up processing equipment, sanitizing and rinsing tanks, or washing down flooring, this unit has the portability and capacity to help you get back to food prep!
Farm, Ag, and Veterinarian Clinics
Farm and ag settings can be some of the messiest locations around. But, whether raising livestock or focusing on grain production, you'll quickly find endless options for putting this equipment to work. Large animal vets will love being able to clean up quickly and get ready for the next patient.
Trucking and Automotive
From big rig repair shops to the local automotive mechanic, having access to an efficient yet powerful cold water pressure washer will significantly benefit you and your customers. Quickly cleaning parts and equipment will allow you to make repairs quicker, helping your bottom line.
Fire stations and maintenance departments
City governments and municipalities typically don't have the luxury of buying new equipment every few years, so taking care of what you've got is vital. Quick access to a wall-mounted unit will allow you to set up dedicated wash bays or keep on-demand cleaning options at your fingertips. Keeping that equipment clean means longer life and a balanced budget.
Why Choose Alkota for your Cold Pressure Washer Needs?
Alkota has been designing and manufacturing industrial-use pressure washers since the 60s. Our attention to detail and engineering focus on simple solutions for all your cleaning needs results in equipment you can buy once. When you buy an Alkota pressure washer, you're purchasing USA quality and longevity. It's an investment in the future of your operation.

More Specifications and Custom Options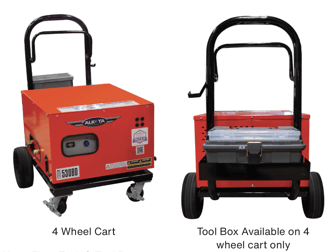 All of our BD Industrial Series pressure washers include:
Options from 2.0 GPM @ 1600 PSI up to 5.0 GPM @ 3000 PSI
Auto Stop/Start with the complete shutdown.
Belt Drive Ceramic Plunger Pump
External Mount Unloader
Lighted Push Button Switch
Shut Off Gun w/Variable Pressure Wand
Down Stream Injector
Smart Timer (Auto On/Off) W/30 Second Timer Delay
Hour Meter
Three nozzles 15⁰, 25⁰ & 40⁰
Made in the USA with ISO certifications

The BD series can also be outfitted with the following options:
230 Volt Three Phase
460 Volt Three Phase
Auto Shut Down Manual On/Off Adjustable Timer
4 Wheel Cart w/ Casters
Float Tank w/High Pressure Soap
Wall Mount Kit
Stainless Steel Frame & Cover
To learn more about our BD Series or to order your machine, contact your local Alkota Distributor today.
DOWNLOAD PDF FLYER