Fleetwash and Alkota: A Valuable Partnership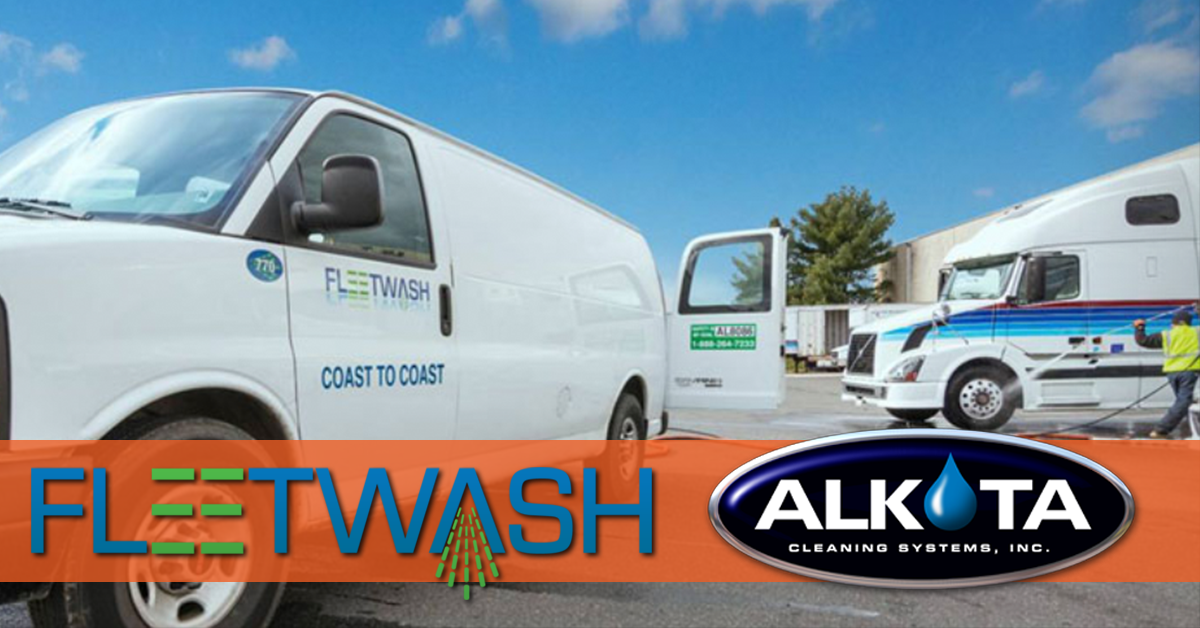 In 1973, fraternity brothers Mr. DiGiovanni & Mr. DiCarlo had their ah-ha moment. Working their way through Seton Hall University, as mobile mechanics, traveling from customer to customer to fix vehicles; customers kept on mentioning they should provide mobile truck washing services too. After getting this request over and over, the guys took the hint and dove headfirst into mobile vehicle washing.
Things started with a bang. As soon as customers heard these new washing services were available, they called to get on Fleetwash's schedule. The brothers built their first pressure washer from hand and modified it as needed, to meet their ever-growing needs. In the early days, three trucks a day was a job well done.
Things have changed a bit since 1973, last year Fleetwash washed over 8,000,000 vehicles, that's 21,917 vehicles a day if you're curious.
Today Fleetwash is washing and maintaining way more than vehicles. We took some time to chat with Anthony DiGiovanni, current CEO at Fleetwash, and son of the founder.
When asked what sets Fleetwash apart, Anthony immediately brings up the fact that their customers want a three-dimensional partner, "someone who truly cares about the job quality, and is innovating to make things even better all the time."
Fleetwash has grown a lot over the past 40+ years. Vehicle washing services have evolved into: parking lot cleaning, facility cleaning- inside and out, dumpsters, HVAC systems, kitchen hoods, solar panels and much more. If it needs cleaning, they can do it. "Currently, our services consist of about 70% vehicle cleaning and 30% facility services.
Focus on the Environment
Fleetwash's slogan is "Getting you clean while keeping you GREEN." Anthony's Uncle was and is an environmentalist. Fleetwash was talking to their clients about the importance of capturing waste and filter water way before they were getting visits from the government.
Fleetwash's focus on sustainability and environmentally friendly cleaning solutions have helped set them apart and help set the stage for the growth they have seen over the last 46 years of business.
Nationwide Growth
Fleetwash started in New Jersey and quickly expanded to New York and all over the northeast. Today Fleetwash is cleaning equipment in all 50 states, including locations in Hawaii and Alaska. From FedEx Trucks to Target parking lots, you can find Fleetwash hard at work cleaning with sustainable methods and excellent service.
The Alkota Partnership
In the early 2000s, as part of their expansion efforts, Fleetwash was looking into purchasing a smaller operation in Arizona. "This company not only provided cleaning services, they were also an official Alkota Distributor. As we looked into purchasing PMC, we, of course, dove into research on Alkota and their equipment," recalls Anthony. At this time, they also were introduced to their future Alkota representative.
"Right away, we discovered how much we had in common with Alkota. They did business (and still do) the way we do business. They offered to come in, see our operation and equipment, and offer up solutions on how to make it better and more reliable. And they delivered."
In one instance, Alkota's team was able to take three machines Fleetwash was using and turn them into one machine, simplify maintenance, reliability, and increased efficiency all at once.
Not long after the initial meetings with Alkota, Fleetwash began to outfit all new trucks with Alkota equipment, and upgrade the cleaning equipment on the older truck with Alkota. "Most of our revenue-producing trucks have two plus pieces of Alkota equipment onboard, sometimes more. From the pressure washers, the wastewater collection tanks, Alkota's name is on it."
When asked about reliability and serviceability, this is what Anthony had to say. "Pretty much all our equipment is running 24 hours a day, we typically run two shifts, with a small maintenance break in between. Our equipment has to work, and we have a proven 20-year track record with Alkota."
"They (Alkota) use quality motors, serviceable pumps, and their build quality is excellent. We rarely have a breakdown in the field; these machines are bulletproof."
When the machines do get service, it is quick and straightforward. "We send our mechanics to training at Alkota's school." Alkota's school offers up to date service methods and techniques to keep machines in top running order.
Looking Forward
Fleetwash isn't planning on slowing down anytime soon. "If anything, our sustainable cleaning services are needed more than ever," said Anthony. Fleetwash is looking to continue to be an innovator and stay on top of the mobile cleaning services industry.
"We recently started cleaning commuter trains on the track with the ability to collect all the wastewater. We are cleaning all the MTA trains (New Jersey Transit) with no waste or adverse effects on the environment." Fleetwash could not do this without help from Alkota.
"We really do care about the environment, we work with local and national agencies on water recovery - our customers see this, and we can do the right thing, the right way. Our customers expect the best from us, so we get the best from Alkota."
Alkota wishes Fleetwash the best of luck, as they continue to innovate and shape the mobile cleaning service standards.
---
To learn more about Fleetwash it services and environmental efforts, visit www.fleetwash.com.
To learn how Alkota can partner with your company, and help you reach your cleaning goals, contact your local distributor today.