Hot vs. Cold: Is There a Right or Wrong?
In one of our recent posts on the blog, we discussed Hot vs. Cold Pressure Washers in terms of heat being the advantage. Yet, when it boils down to pressure washers, both hot water pressure washers and cold water pressure washers have their time in the spotlight.
Let's take a further look.
Hot Water Pressure Washer
What are the benefits of hot water pressure washers?
If you are looking to remove grease and oil along with caked on dirt, this machine is the choice for you. With hot water and a great Alkota detergent; you can cut through build up with ease.
Hot water can marry the three great elements of a good pressure washer: heat, agitation, and detergent. Hot water soaks into the grime, with the help of high volume of pressure adding the agitation needed to kick through the mess. Add some detergent to make those project squeaky clean and shine like a pearl.
Is it more costly?
In short, yes, hot water pressure washers will be a little more costly than cold water. There are also preventive maintenance on the machine to keep it purring like a kitten.
The investment is worth it, especially for those projects that require a good heavy clean to cut through the grime.
Cold Water Pressure Washer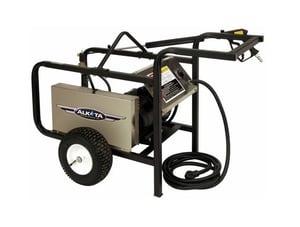 What are the benefits of cold pressure washers?
If you are looking to clean away sand, dirt, or stripping paint, this is the machine for the job. Adding detergent to your machine will also create a combination that provides beneficial applications.
Cost?
While cold water pressure washers run cheaper than hot, they are more limited with what they can clean.
If you are looking to daily clean up that doesn't require a good heated scrub, the cold water pressure washer is a great choice.
Overall, each piece of equipment from Alkota is USA made and comes with the premium service you deserve. There is no right or wrong, it all depends on what is needed to get the job done.
With Alkota, you can bet that every pressure washer we make, is the best.
---
Our dealers are ready to help you find your next pressure washer!
Find the your closest dealer here.