How to Choose a Pressure Washer

We know that it is important that you have not only the best equipment, but the equipment that is right for the job. At Alkota we pride ourselves on working through our network of distributors to help you find the perfect hot or cold pressure washer for your situation. Whether it would be for home use, industrial or commercial, we have you covered. We do that by asking the right questions. Below we have put together a list of things to consider, and questions to ask yourself before committing to your next pressure washer.
WHAT ARE YOU CLEANING?
Alkota makes a variety of pressure washers for a variety of jobs, everything from agriculture to manufacturing and food processing. The gallons per minute (GPM) of water and pounds per square inch (PSI) of pressure that we recommend changes depending on what you are cleaning. So the first questions we ask are:
What surface are you cleaning, is it wood, metal, plastic, or something else?

What substance are you trying to remove?

Is that substance oily and greasy or grimy and caked on?

Do you need hot water to get it to budge or will cold water do the job?
When we understand the scope of your cleaning job, our distributors can help guide you to the perfect industrial pressure washer to do the job. Knowing what you are cleaning is the first step in helping us choose the right pressure washer for you.
HOW MUCH TIME DO YOU WANT TO SPEND CLEANING?
No time! Right? But this is a serious question that helps us get to the heart of how much power you will need, both in the amount of water required and in the pressure of that water.
All of Alkota's pressure washers are built to get the job done. The question is how much time you want to invest. Narrowing this down, along with knowing your application needs, can help you and your Alkota dealer choose the right

volume (GPM), pressure (PSI), heat requirement, and nozzle options.
While we special build other options, most of our industrial pressure washers range from 2 gallons a minute up to 20 gallons a minute with PSIs ranging from 500 to 5000; so when we know how fast you want to clean, we can find the right machine to match your needs. Here is a quick chart with some basic information on the PSI needed to get the job done.

WHERE ARE YOU USING THE PRESSURE WASHER?
Asking where you will be using the pressure washer helps us understand the limitations of your environment. Do you need the unit to be mobile or will it be stationary? We build stationary units, units with wheels, and units on custom trailers.
Will you need your pressure washer to run on a certain power source? Alkota pressure washers can be designed to work with multiple engine options including gas and diesel, and with either single or three phase electric motors. We also have gas, diesel, and electric options for your heat source if hot water pressure washing is needed.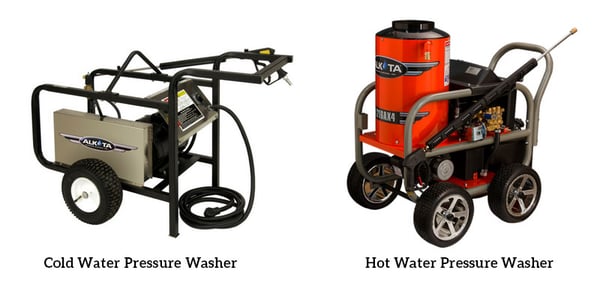 What kind of water source will you have? There are some simple tests that you can run
to know exactly how fast the flow of your source water is if you are planning to hook up to traditional municipal sources. We also have tank and pump options if you need to haul your own water to your job site, or if you require more power than your municipality provides.
At Alkota we strive to provide you with the best products and service in the industry. We have many experts available to help you not only find the right pressure washer, but learn how to use and care for your investment for years to come.
Got a mess? Let's get Alkota clean!