Hydro Excavation and Alkota Cleaning Systems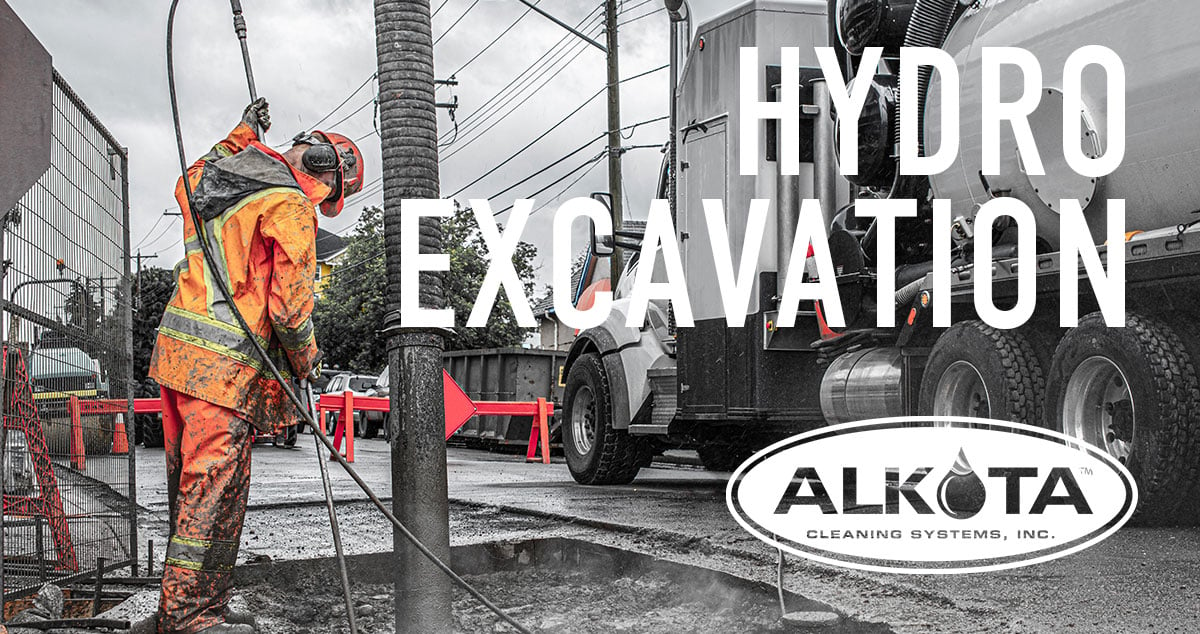 Here at Alkota, we enjoy highlighting the services that utilize equipment that Alkota works with. Today we are introducing one of those services: Hydro Excavation.
What is Hydro Excavation
So what is Hydro Excavation? It is a process of removing or moving soil with pressurized water. An air conveyance or vacuum is used to transfer the soil/debris into a debris tank. This process allows for a non-destructive process and a more accurate way to excavate soil and locate underground utilities.
History of Hydro Excavation
It first started with the oil and gas industries in Canada. Canada contractors were able to see the efficiency of Hydro Excavation compared to other methods.
The cold weather of Canada causes soil to be frozen. This problem makes it harder to excavate using traditional methods. Once Canada contractors discovered Hydro Excavation with using heated water as a good method to excavate.
Hydro Excavation in Action
The equipment combines high-pressure water as an air vacuum. This system helps to break the soul up, and then the vacuum lifts the slurry (a mixture of solids denser than water suspended in liquid), into an excavated area. The debris is transferred to a debris tank.
There are a few ways to create a vacuum source:
Fan System: this has the ability to move air in huge amounts to quicken the excavation. It is easier to control and operate and is lighter and less expensive.
Positive Displacement Blowers: this has the ability to move air in longer distances. This can allow excavation to be done at greater depths but at slower rates.
Application
Underground facilities and subsurface utilities are almost always needed for construction. The use of Hydro Excavation has lessened the risks associated with these jobs and can be used in several excavation applications.
This method can be used for line, sign, and pole installation and location. It can be used for potholing or daylighting. It can help reduce congestion and traffic in excavation areas because the equipment can be positioned at a distance. It can be used for pipe and sewer rehabilitation. It also helps to reduce any damages or punctures in pipes. Overall, it eliminates the additional time and cost that repairs require.
Overall
The benefits that Hydro Excavation brings are numerous. It is the preferred method of digging because of its efficient and accurate results.

By using this method, it helps to ensure safety and damage control. It helps to limit accidents and injuries for laborers, as well as providing a better job of digging.

These perks also connect with the awareness of the bottom line. Using Hydro Excavation eliminates the high expenses needed for repairs and restoration.
Alkota Hydro Excavation Equipment
For water heaters we recommend these two units, the Oil Fired 410 Water Heater also consider the Oil Fired 760 Water heater for your hydro excavation setups.
If you have questions or if you're ready to build your rig, we'd love to hear your need and get you set up. Click the local dealer graphic below to get started today!
---