Should I Choose an Industrial Space Heater or Radiant Heater?

While we all may be desperately trying to hang on to the last days of summer, those cool fall nights are a reminder that winter is not far off. Anybody who has worked in a shop through one of those long and brutal winters knows that it's never any fun to face cold weather unprepared.
No one really likes a frozen worksite. And if there is an award for suffering through the frigid temps, we've never heard of it.
Now is the perfect time to start thinking about how you'll warm your space this winter, starting with which type of heater is right for you.
Here are some general guidelines to follow when making your decision.
Is a Space Heater or Radiant Heater Right for Me?
When it comes to industrial heaters, there are two main options: space heaters and radiant (or infrared) heaters, and Alkota has both. Space heaters use a fan to push hot air around, much like a furnace in your home creating a wider range of warmth and a more consistent heat across the room; a radiant heater, on the other hand, emits infrared waves in a specific direction to heat people and objects in its path. It is an extremely efficient heat, when you are in the path of the radiant disc.
While both Alkota heaters will keep you warm and toasty, there are definite advantages to each option depending on your specific situation.
The Skinny on Space Heaters
Perfect for temporary and emergency situations, our industrial space heater offers immediate heat that can be circulated throughout a large area at a relatively low cost with a standard 115 volt outlet. With the ability to run on kerosene and diesel, the Alkota 210 Industrial Space Heater is versatile and will convert 100% of the fuel being used into heat.

While this lowers your fuel consumption—and therefore your operating costs—the value of a space heater can be diminished by the amount of heat lost when heating a large area versus a targeted one. If you work in an area with a lot of drafting or open bays, you will notice that a space heater might not keep up as well as our infrared models.
If you are looking to transport your heater between job sites, you should know that our industrial space heater is heavier than our infrared models. But both our space heater and radiant heater models have wheels for easier transport to the perfect location.
The Skinny on Radiant Heaters
Instead of heating the air like a space heater, radiant heaters are made to heat people or objects which provides an instant, comfortable warmth without being overly drying. Although radiant heaters do get very hot to the touch, when they heat up infrared light leaves the heater and transfers to the cooler objects around it, like how the sun warms the earth. This allows you to heat a specific area at low cost with a standard 115 volt outlet and a fuel source of kerosene and diesel.

Our infrared heaters are much quieter, and more efficient than many heaters on the market. The heat from these machines is clean and 99% efficient producing no smoke or odor, which means with minimal maintenance it can keep you warm for many seasons.
The downside to radiant heat is that when you aren't in front of the heater, you aren't feeling the warmth. So if you are looking for a consistent heat across the room, a space heater might be more your style.
Need a Little More Information?
Everybody likes facts when you're making a decision, right? So here are the details on three of our best-selling heaters: the Alkota 210 Industrial Space Heater, the Alkota RH126 Radiant Heater, and the Alkota RH150 Radiant Heater.
Alkota 210 Industrial Space Heater
If you've decided on getting a space heater, we know you'd be satisfied with our Alkota 210! Our space heaters can burn diesel, kerosene, or even home heating oil! Using similar components to an oil-burning furnace, our space heaters are built to be reliable.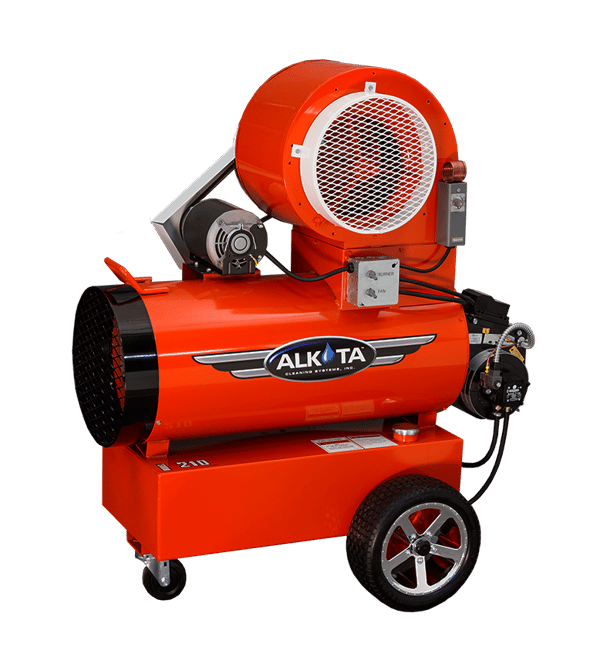 The Alkota 210 features a high-quality fuel pump (instead of a vacuum system like many non-industrial heaters) and a top of the line fuel filter that keeps your heater working for the long haul by filtering out impurities. The system is portable, heats instantly, is non-vented, and has a stainless steel combustion chamber!
Alkota RH126 Radiant Heater
Not only is the Alkota RH126 99% efficient, it also will provide you with odorless and smokeless heat that is so quiet you'll have to check that it is working. Despite its silence, this heater will keep you warm no matter your work situation!
The disc is made of quality 309RS stainless steel, built to last a long time; also made of stainless steel is its transparent fuel filter, making it extremely easy to clean so that you won't have extra replacement expenses from poor filtration.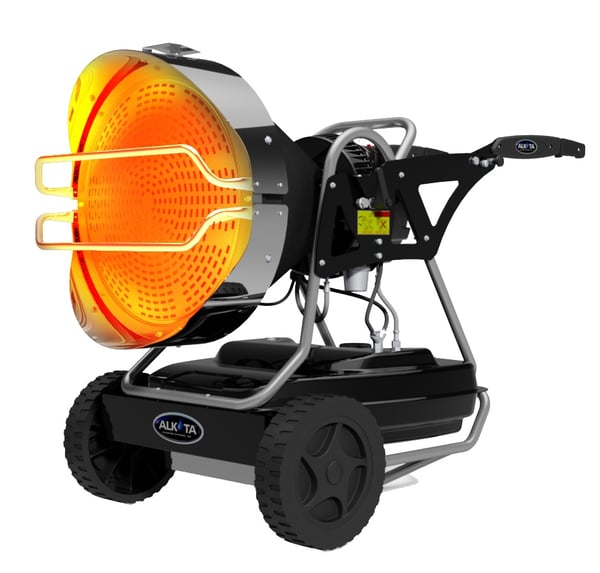 This model features two settings which are very easy to adjust to meet your needs: low (95,000 BTU) and high (126,000 BTU). The unit can run for 14 hours on high and up to 21 hours on low with one tank of fuel.
With wheelbarrow style handles that can lock in either an upright or folded position, the RH126 is very portable and easy to move around your work site.
If your power fails you can use this heater with a 12 volt inverter and your car or truck battery, and it will quickly pay for itself in fuel savings when compared to a typical oil-fired, forced-air heater.
Alkota RH150
The Alkota RH150 is a very similar option to the RH126: it is 99% efficient and will provide clean, quiet heat as well as containing wheelbarrow style handles and quality stainless steel parts that are easy to clean. Like its sister product, this heater can also pay for itself in fuel savings compared to typical oil-fired, forced-air heaters and can be used with a 12 volt inverter and your car or truck battery in case of power failure.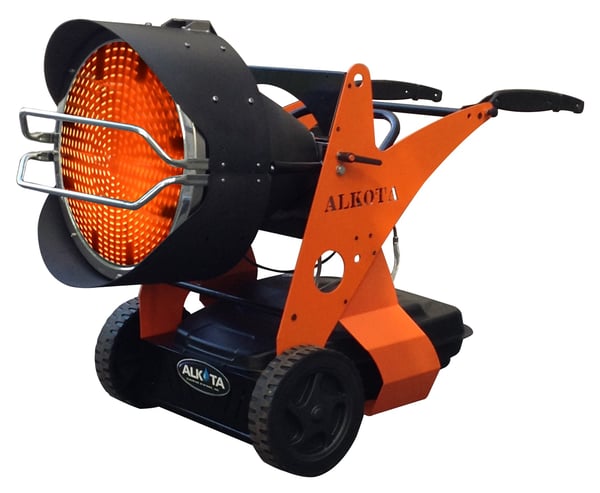 On the high setting you'll get 150,000 BTU and 100,000 BTU in econo-mode. This 14-gallon tank will last 13 hours if you have the machine on high, but if you opt for econo-mode you can get 20 hours of heat!
Unique to the RH150 is a temperature control on a 20 foot cord, allowing you to manage the temperature when and where you want.
---
Whether it is fast and bone-penetrating heat you want, or an even, room-filling warmth, Alkota's got you covered. Click below to find an Alkota dealer near you. Let's make winter a little warmer this year.