Spotlight: Alkota XH4 Series Electric Pressure Washer

The new Alkota XH4 Electric Driven Diesel Fired Portable Hot Water Washer is our new product for 2021. Our team of engineers and product developers have designed a great new horizontal Hot Water Washer for your cleaning needs.
We've taken the best of all worlds in the XH4 Series and developed a highly effective, efficient, well-balanced machine. The XH4 Series is available with flow rates up to 4 GPM and pressures up to 3,000 PSI. The XH4 series features the proven Alkota Hydro Insulated Coil Design with all the benefits of a well-balanced Horizontal Cleaning Machine.
The XH4 offers many options that allow you to customize your machine for you and your customer's cleaning solutions. Please see attached brochure for models and specifications. At Alkota we hand build what customers require to get the job done right! Best of all, it's American Made!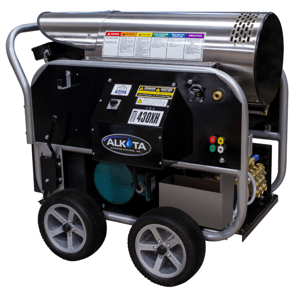 XH4 Electric Pressure Washer Standard Features Include:
Belt Drive – Triplex Ceramic Plunger Pump
Soft Dampening System For Long Life of High-Pressure Fittings, Pump & Coil
Adjustable Front Axle for Proper Weight Distribution
Corrosion Resistant Float Tank
Built-In Wand & Power Cord Holder
Winterization Valve For Protection Against Cold Weather Conditions
50 ft of High-Pressure Hose, Shut Off Trigger Gun & 42" Insulated Wand w/15° Nozzle
Schedule 80 Hydro Insulated Coil w/Painted or Optional Stainless Steel Coil Wrapper
High-Pressure Detergent System w/Precision Metering Valve
Pneumatic Filled Tires
Unit Burns Kerosene, Diesel or Home Heating Oil – 8 Gallon Fuel Tank
Options Available:
Nozzle Kit – Adds: 0°, 25° & 40° Spray Pattern Nozzles
Hour Meter
Steam Combination Kit
Adjustable Thermostat
Stainless Steel Frame
Smart Timer – Auto Start/Stop w/20 Second Delay
3 Phase 230 volts or 460 volts (Not Available on 430XH4 Unit)
Flat Free Tires
Stainless Steel Coil Wrapper
Optional Hose Reel – Hose Reel Bracket Already on Machine
Additional Information
PDF: XH4 Series Electric Pressure Washer Machine
Contact a local dealer to inquire about the XH4 Series Electric Pressure Washer!
---