Pressure washer uPKEEP: Things You Need to Know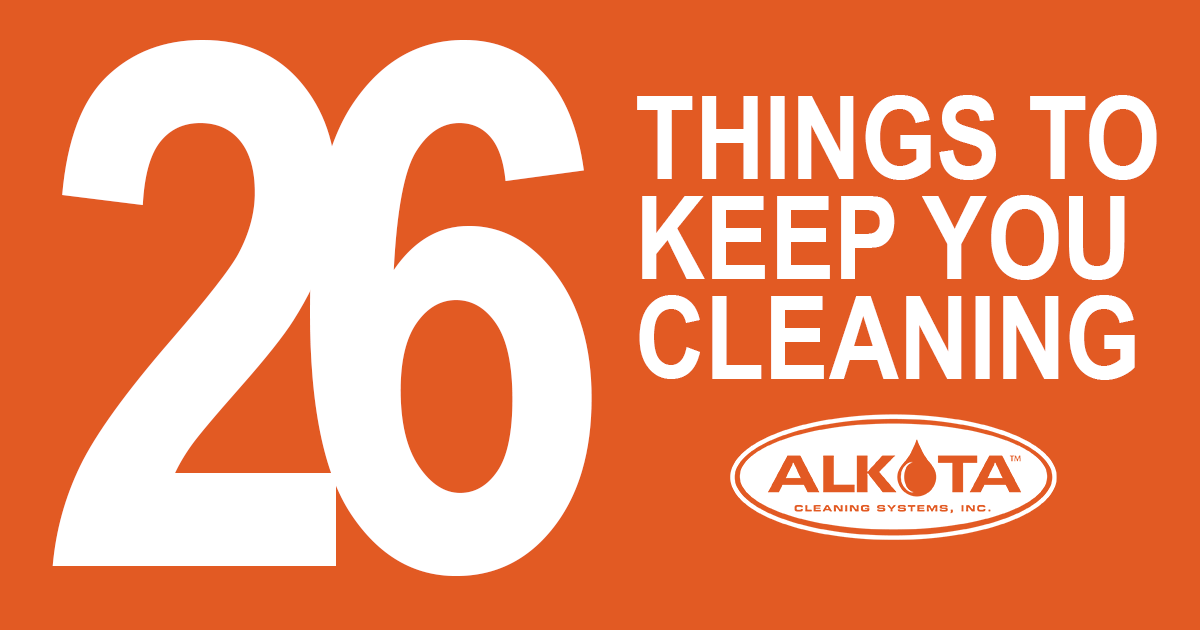 So you invested in a great commercial pressure washer, now what? You want to keep your investment running like a well oiled machine, but not sure what to do?
Alkota has prepped a great checklist about 26 thing you need to know, to keep your commercial pressure washer running smoothly. So, let's get into it.
Checklist
Check engine RPM or motor amperage. One of the things you can do is just where the RPMs are running on your machine.
Check pump oil condition and change as needed. Keeping your machine a well oiled machine (pun intended), means checking those oil conditions. Keeping it changed and eliminating build up is key to a smooth machine.
Check pump oil levels; add as needed. If you are using your machine often, it's important to check the pump oil every so often. This is especially true if it's been warehouse for a long time.
*We recommend changing your oil if your machine has gone unused for a while.
Check pump for proper operation and inspect for leaks. Don't skip this step. Leaks can happen, and it's better to catch it early than late.
Check engine oil condition and change as needed. This goes hand and hand with changing your pump oil. Check these at the same time.
Check engine oil level, add as needed. Same as stated earlier. Checking levels are important to keeping that machine running well.
Check engine oil filter, fuel filter & air filter. No matter how often you use your machine, you are going to need replacements on these. Make sure before you start your machine, that you check these.
Check drive belts for tension and wear; adjust. If you are noticing some issues with the run of your machine, this is a good place to check. Drive belts will gain wear and tear.
Check to ensure belt guards are in place. While checking drive belts make sure the guards are positioned correctly to avoid any issues developing on the belt.
Check pressure and temperature levels; adjust. If you are seeing a difficulty in water pressures, check these levels and adjust to the job you need to clean.
Check coil for soot deposits and lime build up. Coils can get soot build up, if the machine is not checked regularly. If you are noticing black smoke or fire coming out of your machine, it is best to check this.
Check spray nozzles for damage or wear. Spray nozzles can become damaged or clogged depending on storage and usage. Check your spray nozzles before starting your job to ensure you don't run into any issues.
Check hoses for breaks or leaks. It's important to keep care of your equipment, and hoses are one of those. Make sure to check your hoses before starting your machine.
Check trigger gun and wand for wear & leaks. Noticing a lack of pressure in water? Checked the pumps but nothing seems amiss? Chances could be that your trigger gun may be working improperly.
Check couplers for O-ring wear and coupler damage; replace O-rings, if needed. These are sometimes the last things we think about when having issues with machines. But these parts are important to keeping your machine running in tip top shape. Be sure to check these if you are running into issues.
Inspect & lubricate quick disconnects. Keeping things running efficiently means taking the time to prepare machine parts.
Check burner for proper operation; adjust air and electrodes as needed. If you notice the water is not running as well as you need, its wise to adjust the air flow coming into your machine.
Check burner fuel filter. If you are still having issues after adjusting the air flow, it's best to check that burner fuel filter, and replace if needed.
Test regulator/unloader valve for excessive wear. Parts on machines will wear down. It's important to check these pieces and replace before use.
Check and clear or replace inlet water filter. Having issues with your water intake in your machine? Check the inlet water filter.
Check electric outlet, cord and voltage. Sometimes things happen. Cords and outlets can cause issues with power in your machine. If you are noticing issues, check these areas.
Check pulley alignment, adjust. Before starting your machines, make sure to check that your pulley is aligned and adjusted.
Check detergent / chemical suction. Detergents can build up on machines. Making sure things are cleaned out, can reduce having to stop mid job to fix your machine.
Check frame & wheels for wear, add air as needed. Notice maneuverability issues with your machine? Check to see if there is any damage and contact your dealer if you do.
Check electrical switches. If you are noticing there is some gaping in how your machine runs, be sure to check your switches.
Check thermal valve, relief valve & high limit if equipped. If you are using a machine with any of these aspects on your machine, be sure to check this regularly.
In summary, the checklist is a great guide for anyone that is handling a hot or cold pressure washer machine. Alkota is proud to provide the help people need, along with the great customer satisfaction you deserve.
If you are in the market for a pressure washer machine, contact an Alkota dealer near you today!