When Do I Need A Rotary Pressure Washer Nozzle?

So what is a rotary nozzle best for? We know it packs a punch, but when and where are the best places for this mighty attachment?
Today, we will look at the rotary pressure washer, how it works, and when you need one.
The rotary nozzle is perfect for demanding cleaning tasks. The nozzle is designed to rotate at a very high speed, creating a broader and stronger spray pattern, effective on the most stubborn messes.
#1 Cleaning and Restoring Pavement and Concrete
Your rotary turbo nozzle is the best thing you can use to strip off old paint, graffiti, and other debris from pavement and concrete. So if you're looking to clean up that stone walkway or driveway, then rotary pressure should be your go-to.
#2 Cleaning Your Car
When it comes to getting your car looking brand new, rotary nozzles make quick work of dirt all over your vehicle's surface, including mud, grime, and even bugs from windshields. But user beware - using a rotary on painted surfaces could cause damage—best to use the rotary for wheel wells, tires, and wheels.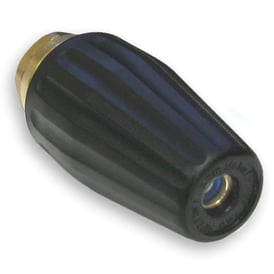 #3 Spiffing up the Barbecue
When that greasy, dirty grill grease doesn't scrub off no matter how hard you try, a rotary pressure washer's nozzle will be your new best friend. With the correct nozzle tip, you can clean every nook and cranny of any dirty barbeque, allowing you to get back to grilling sooner!
#4 Deep Cleaning Your Deck or Patio
The rotary nozzle is perfect for cleaning wood decks and patios—apply some detergent to the surface before using rotary pressure to flush out all the nooks and crannies between each board. It's essential not to use this attachment on pressure-treated lumber, though, as it can damage that wood type.
#5 Cleaning Windows and Siding
How often do you look at your windows and cringe? With rotary nozzles, cleaning out grime from window panes is easier than ever. Although rotary pressure wasn't intended for exterior siding use, the rotary nozzle will get any surface clean in an instant if you don't mind a little overspray.
Even when using your rotary nozzle, be sure to follow all safety instructions found in your power washer manual to ensure everyone's arms and legs stay intact
Rotary Nozzle In Action!
So when it comes to rotary nozzles and their uses, we hope this helps put them into perspective. Whether you're looking for an easy way to restore your pavement or want to show off your cleaning skills on your car, rotary nozzles are an excellent investment.
---